Another old post from the Myfamily.com Archives: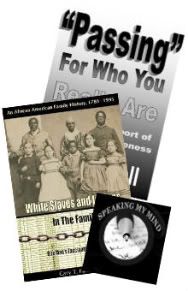 As it always is, I am focusing on my controversial maternal family history, and the ancestors and descendants who were/are not dark-skinned people, or who don't feel that they are Black or African American just because they are a different shade somewhere between Black & White. I hope only to be a voice for so many elders  who are living something that they don't understand or think is unfair. They are people who are divided on their own history. It is my opinion, however, that a 'one drop rule' for anything is not a good thing, because it takes away from all that a person is or has the right to be. I most certainly agree that much of America is of mixed heritage, but they just haven't fully realized it yet... also not everyone looks obviously multiracial or multicultural. The world would be a better place if everyone felt that race didn't matter, but unfortunately it still matters to many people. 
The ancestors have a fascinating story and the more I research the more I learn about the American Indians and the White European's, all of whom are ignored... the story has gotten so twisted and turned over time that it isn't in any way accurate. For me that is something to care about. For any of my ancestors to be accused of "passing for white", because they were so damn white, is obsurd in this day and age. Most of them just lived their lives, did what they had to do. If they moved from the area to expand their lives, if they lived a white life it was only because they were, in borrowing a variation of author A.D. Powell's book title, passing for who they really were, which wouldn't be passing at all.
The author of a work-in-progress book, titled "White Slaves and Indians in the Family", Cary T. Faison, Jr.", a Black man, or I should say a multiracial or multicultural man, who looks Black, (since it is only a color), speaks in his book of researching what he thought to be his Black African family tree. He was surprised to find unexpected people in the branches of that tree. He found American Indians and he found what he refers to as "white slaves". He learned that White slavery had been a common, well documented but forgotten part of American history. The lighter slaves were usually favored as house servants, but did not necessarily have it made living in the house. Although their chores may have been lighter and they dressed finer, the lighter their skin, the more they were susceptible to the men's advances. Sometimes they even welcomed the advances because they benefited from them, and there are even instances of true loving relationships. This is exactly what my ancestor's first slave Hannah was (first because there were two Hannah's), a house servant passed around in family Wills. She was according to Will, eventually paid monies and set free. This Black author learned that his great grandfather was most likely White because of the amount of white genes he inherited down through the generations from European male ancestors.  
Cary dosen't adhere to the 'one drop' rule and considers his people, who descend from American Indians, Black slaves, and European White slave holders, to be white slaves, therefore white people...and that is what any of those who descend from Hannah should be able to say. I'm White, I'm Native American, I'm a Black, or I'm multiracial or multicultural. Instead everyone has to say they are Colored or Black or at the least don't mention being white or having white ancestors because it can cause a big stink with some, which in turn, I think that kind of ignorance stinks!