For those Myfamily.com members or anyone interested in the unfortunate genealogy sharing experience that occured several years ago, it would be best to start with
Myfamily.com
Genealogy Misuse Rebuttal
Introduction
and then follow the links in the 'body' of the document, otherwise explore as you wish ...
"Never be bullied into silence.
Never allow yourself to be made a victim.
Accept no one's definition of your life; define yourself."
~Harvey Fierstein 
You have to speak your truth.  You have to speak your mind with no false pretense.   Very important in doing this is the ability to know from what position one speaks.  I do not claim to be a perfect person or a pure white person, one might have thought there was such a thing as "pure white" long ago, but that myth is fading away.  I do know that I am not a colored or Black person.    I know a lot about my roots.  I know who my parents are and a lot about their lives; I know who my paternal and maternal grandparents were and those who came before them; I can only imagine what they went through and in some cases what they put themselves thru.  
Thanks to the efforts of several people, enthusiasts for genealogy and history, along with my own efforts and a little DNA testing and family members willing to help build a DNA family tree, I have discovered that my deep roots on either side of my parentage can be traced back to Eurasia, Europe, East Asia, West Asia, Africia and American Indians. The only one of those categories that surprised me in the least was East Easian on my maternal side.  I have always known my family and I know
who I am
.
  I am White.  I have never had to invent or reinvent my life story. There have been happy bits and grim bits and, yes, a few bits of which I am not totally proud, but I can live with that.  
When speaking out one might be ignored, a few may criticize or ridicule, but several may stop to listen and think.  Regardless of the outcome or the reaction of the people, stay undeterred.  If one could hear your strong voice and clear resolve they would know without a doubt that the written words are not angry words, but words of true concern for those who are affected by unfairness.  Unfortunately on the Internet we cannot see a person's eyes, see their facial expressions or hear their tone of voice.  If so, at least in my case, the aforementioned would reveal a passionate boldness with an attitude of caring.
Often we are faced with adverstiy, or someone challenging what we believe in. Whatever your beliefs may be, and in whatever area they may be, stand firm in them, always keeping an open mind willing to learn and understand things that improve upon your beliefs.  I'm a firm believer in growth.  Life is about learning and growth, and developing our own special qualities.  Goals should always include something that will stretch you up and stretch your mind.  So, in the face of adversity and prejudice, I believe that if a person is one who can build a firm foundation with the bricks that others throw at them, then that is all they need to succeed.    
This site is dedicated to my Tabler Ancestors and their families.  When life becomes too hectic and stressful I at times find distraction and comfort in making the effort to continue to learn and understand all that I can about what my ancestors lives must have been like, and how they shaped my mother's life.  I think the more one can learn about their family, all their struggles, diffiiculties, and many times the indiscretions that they endured, not just their names and dates, one will appreciate all of their ancestors, not just one select group or race. They become real and you know that  they are all part of your being. On my learning journey I have had to study the history of our country and the history of racial classifications.  Slavery was a terrible human injustice. There is a flip-side, so to call it, that affected my family, their ancetors and many of their descendants.  In fact many families across the nation.  It is a fascinating study, one that has led me down many roads, one that has shown me some very sad instances of prejudices, ideals, and opinions I never realized existed.  As I grow older it all becomes clearer, but my stance remains the same.  I am White, my mother also White.  We have White ancestors.  We are of mixed ancestry, something that is no longer all that uncommon, and really never was, yet the way one identifies can be a big problem for some culture groups.  
My mother was, is and always will be a very beautiful woman.  She is a uniquely wonderful and kind person.  She was always a family person when she was well.  I am finding her to be quite a strong fighter in her own wise and quiet way.  I'm very proud of her for being able to know and see who she was no matter what was swirling around her.  I wish her peace always.   I have fond memories of her parents, my grandparents, and what we all call "the country", Kilvert, Sand Rock Ridge, Cutler and nearby areas.  I miss my family and those seemingly innocent days gone by.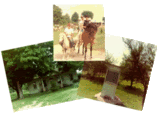 Little did I know while growing up that my ancestors where a big part of our American history in good ways, but also in some very controversial ways.  They were fascinating people.  My accounts or opinions found within are my truth and they are from my heart.  I share them freely, taking responsibility for any consequences that may occur.  Any private or sensitive information directly regarding family members and ancestors is in a private place for family only.  I learned by error that it's best to keep your family research and stories in the family.  
We all grow up with the weight of history on us. 
Our ancestors dwell in the attics of our brains
as they do in the spiraling chains of knowledge
hidden in every cell of our bodies.  
~ Shirley Abbott
<< Back to Genealogy Rebuttal Introduction